Because it means I get to wear my scarves.

Saturday night was fantastic. Went to the "Motherfucking Beatnic Revolution" spoken word at the Peace and Justice Center. Also Ben, the stump is amazingly fantastic. I promise to read at the next one, it's just that I felt so out of place and it's not as if my voice would have lasted long anyway. Damn cold.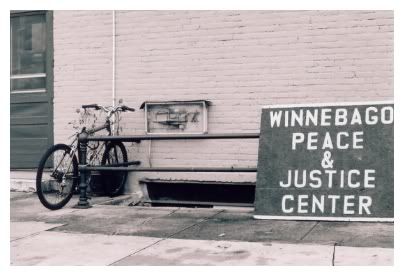 After MfBR, we decided that Perkins was in order. Drove to Perkins to find homecoming high schoolers, decided to go to Planeview (the truck stop) instead to find that it was no longer open 24-hours (it was almost 1 am by this point) and we drove back to Perkins. Migrated back to Ben's place after plates of onion rings and broccoli and such. The night ended on the couch, Ben, Kristen, Ryan and me laying on one another with a giant blanket that Ben's roomie was kind enough to give us. Can we say - bonding experience?

Sunday afternoon Ryan and I drove 20 miles south on 41 to the abandoned gas station/motel. It was an experience just getting there. After getting off 41 it took us more than an hour to find it, I got nervous parking in the self-storage because there were a few people there that looked like they should be there. A bike hidden in bushes is one thing - a white car parked on a graval drive is another. A car's slightly difficult to get back once it's been towed. So I looped around to see if we could find another parking area and just wound up on the side of the road next to the self-storage. Got about ten shots in the motel. Some fun ones of Ryan and some of just the buildings. We'll just have to see if my camera's back in shape.

We came back - Walgreen's wouldn't develop my film because it is professional grade and would ruin their chemicals (which I knew, but really wanted to get away with) so I took the roll to Camera Casino this morning (besides - I had to pick up my bike from behind the new moon where I'd left it Saturday night - ooops.) which will be much more expensive. After Walgreen's I was little Susy homemaker - I made us both tea and couscous. It was the first time I was able to make good couscous in the microwave! And we sat and chatted until I needed to take him home and then I was here all alone, but very blissed out - so I didn't even notice.

I have work in an hour.